Weekend Getaway on a Budget!
The kids are begging for a Spring Break trip and you wouldn't mind getting out of town yourself, but with the cost of gas, food, and daily life expenses rising, who can afford a spur of the moment vacation right now?! A break shouldn't cost you an arm and a leg, follow the suggestions below to plan the perfect weekend in the mountains getaway without breaking the bank!
Day Activities
The listed activities below are either free or low cost making them affordable for your whole family!
The Murphy River Walk

– A 4-mile paved loop with several board walks, parks, benches, and covered pavilions along the scenic river front trail.

The Cherokee County Historical Museum

– With $3 admission for adults and $1 for Children, take advantage of this history lesson right in Downtown Murphy!

Panther Top

– A scenic 2-mile round trip hike to Panther Top Fire Tower will allow the whole family to soak up the panoramic mountain views!

Piney Knob

– Bring your bikes to enjoy the various biking trails at Piney Knob!

No bikes, no problem. Piney Knob Trails double as perfect nature walk trails, varying in difficulty for all ages. 

Nantahala Outdoor Center

– Hang up your hammock and spend the day at the NOC. Watch skilled rafters pass by on the Nantahala river and enjoy the various nearby hiking/walking trails. 

Spring Festivals in Andrews and Murphy

– Plan your weekend getaway around our local Spring Festivals! Packed with local vendors, live music, art demonstrations, and fresh food, your day will be filled!

Andrews Spring Fling- April 23, 2022

Murphy Spring Festival- May 7, 2022

Heritage Park Disc Golf

– Spend the morning in Andrews at the disc golf course! Play a fun and challenging game of disc golf or go for a stroll with a mountain view around the course's gravel track.

Food Truck Friday

– Beginning on May 13, 2022, visit Downtown Andrews and enjoy food hopping at Food Truck Friday, complete with live music and local vendors.
Murphy Art Walk

– Beginning May 6, 2022 the sidewalks in Downtown Murphy are closed for local artisans, live music and good food. Shop the sidewalk weekend getaway around our local Spring festivals! Packed with local vendors, live music, art demonstrations and fresh food, your day will be filled! Shop the sidewalks from

5pm-8pm every first Friday of the month.
Restaurants
Give these Local Favorites a try for quick service and quality food on a budget!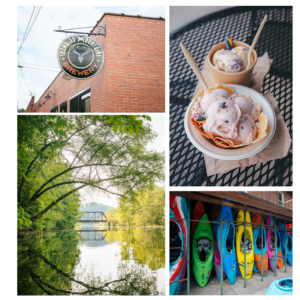 Main Street USA

Santo Ninos

Smoky Mountain BBQ

Rib Country

Maria's Diner
Special Treats
It's still vacation! Treat the gang to a sweet treat or a cold drink for mom and dad!
Sweet Tooth Ice Cream 

Mimo's Ice Cream & Sweet Treats

Snowbird Mtn. Brewery

Buck Bald Brewery


Fern Crest Winery
Please follow and like us:
---