Welcome to the Year of the Trail in North Carolina!
---
Happy New Year! We are three and a half weeks into 2023 and looking forward to all the new adventures and activities to be had this year! From new restaurants and small businesses to new places to explore outdoors! 
Did you know that 2023 is the "Year of the Trail" in North Carolina? "In North Carolina, there is a trail for each of us. An open invitation for bikers, hikers, paddlers, and riders. For amblers, explorers, and commuters. These paths are a place of refuge and recreation, connecting us to the very essence of this state. To its storied, winding history. And—with our active use and care—to its future. Because we blaze and sustain trails together: those born and bred here, and those beckoned by its promise as the Great Trail State. Along these trails, we lead and we follow. We march on our own and we build community. We find new purpose, generation after generation. Because North Carolina's trails are for all of us. To enjoy, to sustain, and to champion. This is our year. The Year of the Trail." 
To help you kick off your "Year of the Trail" we have included a list below of some of the best places to hike, bike, and walk in Cherokee County! Find your favorites, try something new, and then re-visit your favorites because the view is different every time you visit!! We'll see ya on the trails!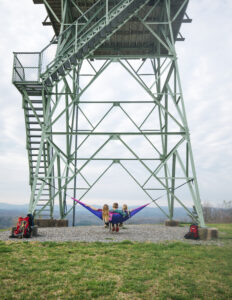 Panther Top
Duh! You already knew this would be top of our list! We just can't get enough of those panoramic mountain views, the moderate trail up to the top and the convenience of being close to downtown but feeling like you're in the center of nature.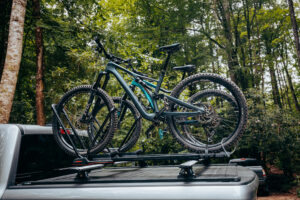 Piney Knob Trails
The PKT is constantly on our recommended list of trails because it is SO versatile. You can walk, trail run, mountain bike, even meditate by the small waterfall at the trailhead! There are several trails varying in difficulty levels, and again, you have the luxury of enjoying the peace and quiet of the mountain scenery while only being 10 minutes from Downtown Murphy. 
The Murphy River Walk
The Murphy River Walk is an accessible, scenic, and serene trail. This is a great walk for all ages as it includes several stops beside playgrounds, a paved portion for those with difficulty navigating rocky terrain, benches and picnic tables for the nature watchers, and a 4 mile trail for those looking to get in some good cardio!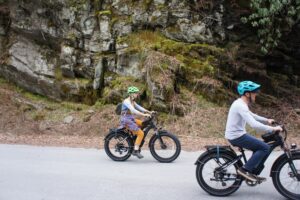 Nantahala Adventures Electric Bike Tours
If you don't feel like spending the day on your feet, but still want to enjoy all that the mountains have to offer, an electric bike tour is perfect for you! "Explore dense mountain forests, travel along rushing rivers, up to scenic overlooks all without the sound of an engine disturbing you or the wildlife along the way. You control your experience with 0-7 pedal assist options."
For More Information Click Here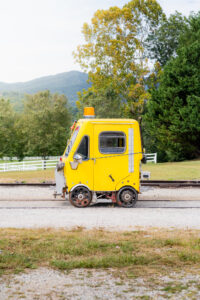 Andrews Valley Scenic Rail Tours
We know that physical activity isn't for everyone, and that is totally okay! However, we do think that experiencing the mountain views in Cherokee county is for everyone! This convenient scenic rail tour is perfect for all ages and activity levels, hop aboard the rail cart and enjoy the easy ride up the mountain, experiencing the beautiful foliage, scenic bridge crossings, local wildlife, mountain views, and even rivers and waterfalls! Gather the family and pack a lunch to enjoy a day on the rails! For more information Click Here
Please follow and like us:
---