A heat wave has hit Cherokee County and with that comes the need for a cool summer treat to help you beat the heat! We rounded up the best sweet spots in the county to help you keep your cool! 
Sweet Tooth- Murphy, NC
Sweet tooth is a local favorite! This Murphy staple has been around for years and they still serve up the best soft serve, milkshakes, and sundaes just like the good ole' days! This little
hidden gem even has a drive through for a quick treat, just don't forget your wallet because this blast from the past is cash only!
Located at: 658 Andrews Rd, Murphy, NC 28906
Mimo's Ice Cream & Sweet Treats- Murphy, NC
If you're looking for something with a twist, Mimo's is the place to be! Serving up home-made flavors, mega sundaes, boozy shakes, and monster milkshakes stacked high with cookies, snack cakes, candy, s'mores and more! You won't want to miss these unique treats located in the heart of Downtown Murphy!
Located at: 46 Valley River Ave Suite D, Murphy, NC 28906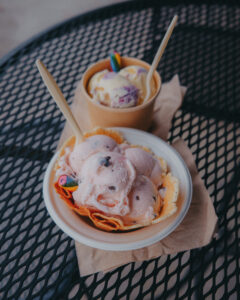 Cups & Cones- Andrews, NC
A fresh waffle cone is a must at Cups & Cones in Andrews! Choose from a variety of flavors and toppings or try a milkshake or smoothie. Whichever you choose, take a seat outside and enjoy the view of Downtown Andrews!
Located at: 915 Main St, Andrews, NC 28901
Please follow and like us:
---